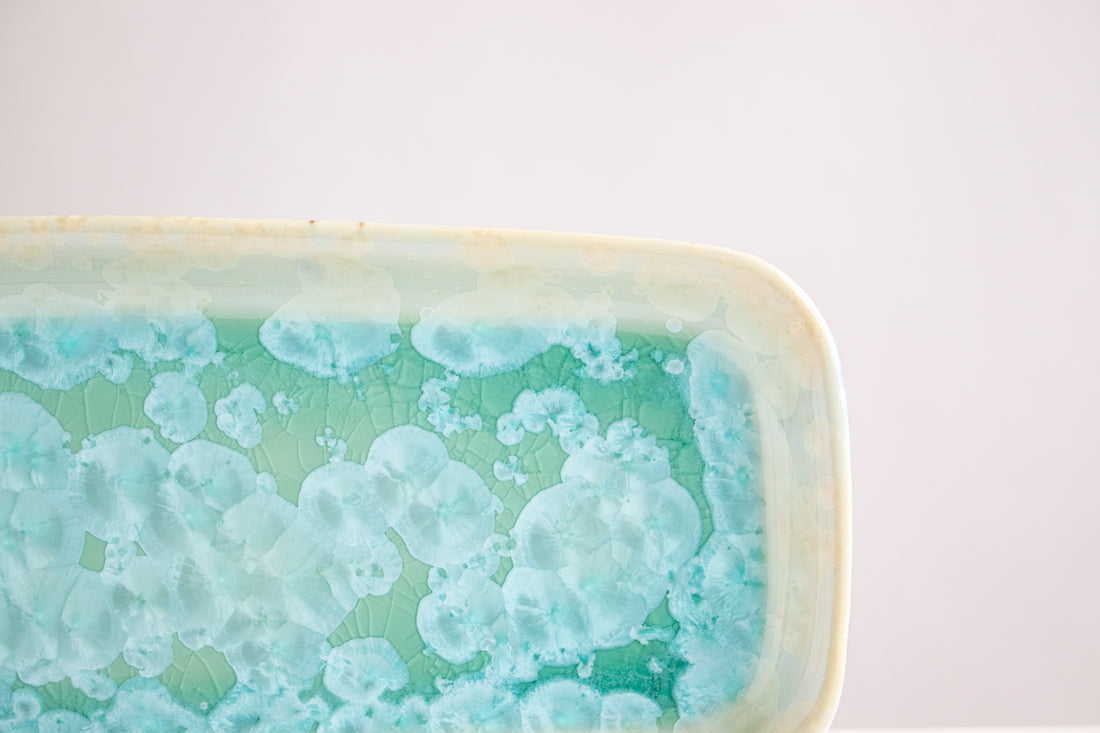 crystalline glazed ceramic 

6" x 15"

handmade in Indiana 
Egenolf Ceramics is a small family run and operated business located in Brown County, Indiana. Adam Egenolf and his wife, Barbie, both work in their home pottery studio. They started Egenolf Ceramics in 2008 and have been full time artists ever since.
The Process
Adam makes all of his crystalline glazes himself. The formula for each glaze is a recipe that he has tweaked and perfected over the years. He uses rare earth metals and oxides like copper, cobalt, manganese, red iron oxide as part of the glaze formulas. Because the crystalline glazes in particular are particularly thin, Adam has to make a custom ceramic piece to place under every non-flat piece (vases, mugs, etc) in the kiln. This is in place to catch the extra glaze that runs down the main piece during firing.
During the glaze firing is when all the magic happens. Learned over years of trial and error, Adam has very particular protocols that he has to follow during the kiln firing. Once the kiln is up to the highest temperature, he starts slowly dropping the temperature to very particular degrees, then holding it at each degree setting for a period of time. Each time he does this, a new ring forms on every crystal in the kiln.
When the kiln has cooled completely, each piece is unloaded and the excess glaze and the glaze catcher on each of them is knocked off. The final step in the process is using a grinder to get the bottom neatened up and all of the excess glaze removed.