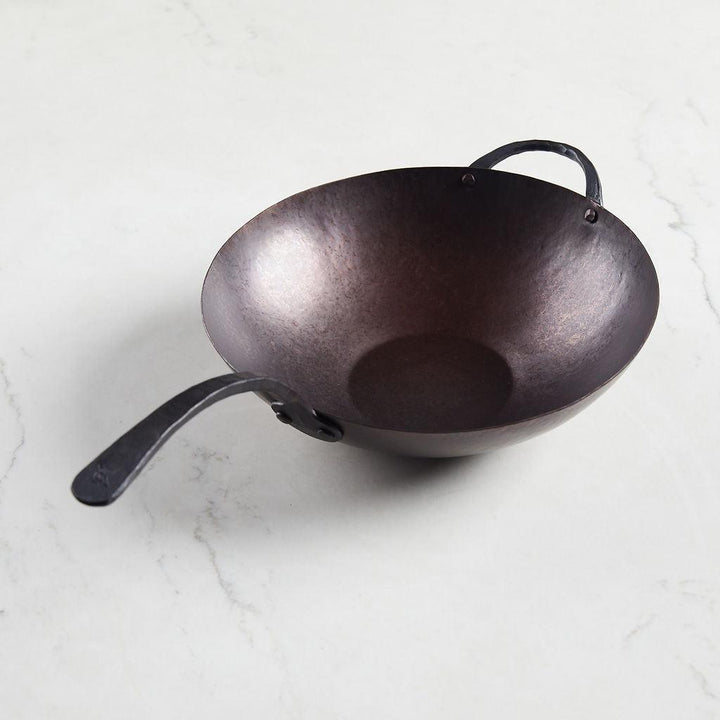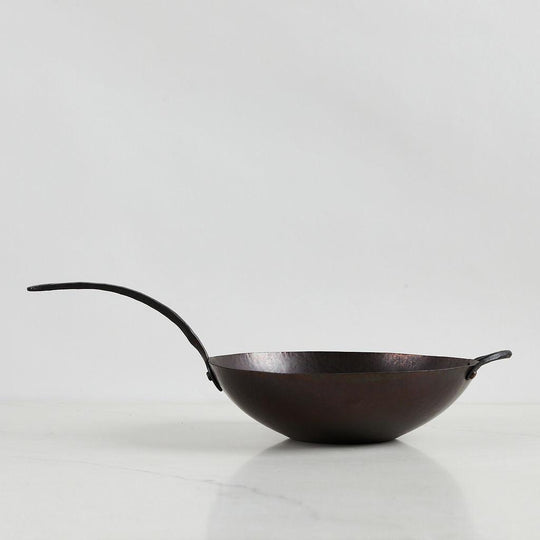 The wok, like the cast iron skillet, is an iconic cooking tool for millions of people across a diverse array of cuisines around the world. While woks today tend to be mass produced from cheaply stamped metal, there is a rich legacy of artisan wok design – the work of the Cen brothers in Shanghai comes to mind - that combined beauty, function and longevity. The Smithey wok seeks to honor this legacy, with a stunning hammered form optimized for the modern home cook. Utilizing a lighter weight carbon steel, this pre-seasoned wok weighs around 3 lbs. and is designed for high heat cooking and lots of movement. The flat bottom ensures stability and surface contact across a range of heat sources from gas to induction to electric, while the functional depth makes it ideal for everything from classic stir fries to sautéing, steaming, boiling, even light frying. Use it well.
hand-forged carbon steel
diameter: 12.5"
length with handles: 23"
cooking depth: 3.25"
total depth: 7.5"
weight: 3.25 lbs
pre-seasoned
Smithey Ironware is a backyard story. Their founder, Isaac Morton, hatched the idea for Smithey while tinkering around his woodshed admiring the smooth surfaces and timeless logos of vintage ironware. Here, he developed an expertise in restoring beautiful old cookware pieces, which he would then gift to friends and family. 
Made in the US, their skillets begin as raw castings with a surface similar to heavy grit sandpaper. They transform each one into an elegant cookware piece by hand & machine in Charleston, SC. They are so confident in the quality of their cookware, that each Smithey comes with a lifetime guarantee.
Smithey believes that some of the best cast iron sits on the ranges of future generations, and they plan to share it with you. In the kitchen or around the campfire, their goal is to be first in mind when home chefs think of premium cast iron cookware.