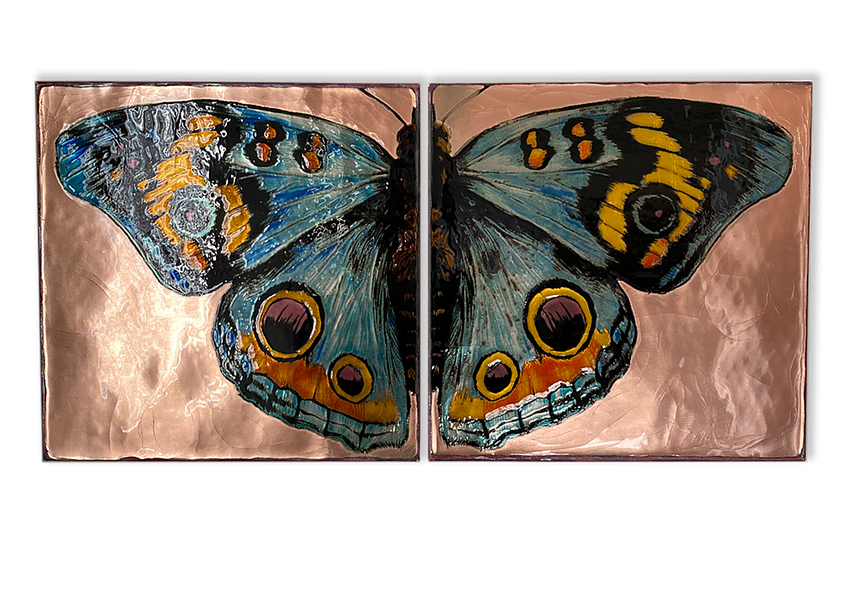 On The Wings | Houston Llew Limited Edition
This stunning butterfly with lifelike details and colors is sure to bring any room to life! 
Houston loves creating Spiritiles. Given they are a portrait format, he decided to play with landscape enamel images and became inspired by the effect of diptych, one image split into two panels. The frame "floats" off of the wall by hanging on a back mount. 
each panel is 15x15" - total dimension is 15x30"
glass enamel on copper, formed around a wood core
status: limited edition
made to order - expect roughly 2-6 weeks for this piece to be made
Every Spiritile is made painstakingly by hand in Houston Llew's studio in Atlanta, Georgia. The glass is applied to one side of the metal using stencils and relying on precise layering with hand sifters. The piece is only fired once. After firing, a pin is rolled over the enameled metal to form intentional crazing marks in the glass. Although it goes against the medium's traditional teachings, Houston says this technique creates increased light refraction, particularly in the transparent glass.