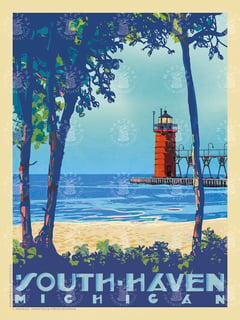 South Haven Print | 18x24
This image has been watermarked. Purchased artwork will not have a watermark.
South Haven, Michigan, located in the south-west corner of Michigan. Just a couple of hours from Chicago, you will find a quaint town surrounded by lakes, wineries, beaches, scenic trails and amazing eateries.
Escape to South Haven all of the time with a view-from-the-shade scene of the South Haven Light House on Lake Michigan.
This lithograph is printed with the highest craftsmanship on archival quality 80lb paper with a matte finish, hand signed and sealed by the artist.
18" x 24"

unframed archival paper
made in Lansing, MI
Martens Printworks, LLC. produces original lithographs that are inspired by the subject matter, color and design seen in a foregone era of printmaking. These completely new and original lithographs are a series of works that represent several well-known locations in the grand state of Michigan. They are meticulously printed in Michigan using fine quality, environmentally friendly produced paper and light fast inks.